Starting a new family Christmas tradition is the best way to make the most of the most wonderful time of the year. Find out why traditions are important and how to make your Christmas season magical!
Why Family Traditions Are Important
Family traditions add richness, meaning, and purpose to your life. They also create a sense of belonging, togetherness, and new memories to cherish for years.
Need one more reason to start a new family Christmas tradition? Research shows rituals and traditions reduce anxiety and increase your sense of control and predictability.
10 Magical Family Christmas Tradition Ideas
Are you looking for a new Christmas family tradition this year? Take your pick from these 10 ideas, or add them all to your to-do list this holiday season.
Read The Night Before Christmas on Christmas eve. Add this to your bedtime routine, or read the book with a cup of hot cocoa after dinner.
Introduce your family to the elf on the shelf. Watching his mischievous adventures unfold is half the fun!
Make an Advent calendar full of surprises. Round up your favorite holiday candy, stickers, and treats.
Create your own tacky Christmas sweaters. Gather the glitter, paint, and ribbons, and have some fun.
Make a holiday movie bucket list. Vote on your family favorites, then watch them all!
Wear matching family Christmas pajamas. Take movie night up a notch with comfy, cozy holiday-themed PJs.
Bake cookies to leave for Santa. Sneak a few for a taste test. 😉
Hold a family gingerbread house decorating contest. Post your creations on social media and let your friends and family vote for a winner.
Volunteer together to support a local cause. Pick a name from the Angel Tree or head to a soup kitchen. After all, it is the season of giving.
Visit a light display. If you're in NC or surrounding areas, the lights at Kersey Valley Christmas are a must-see — and so much more that amounts to an entire evening of family winter fun!
Want to Give Your Loved Ones the Gift of Quality Time and Precious Memories?
Buy Your Tickets TODAY and Start Your New Family Christmas Tradition at Kersey Valley!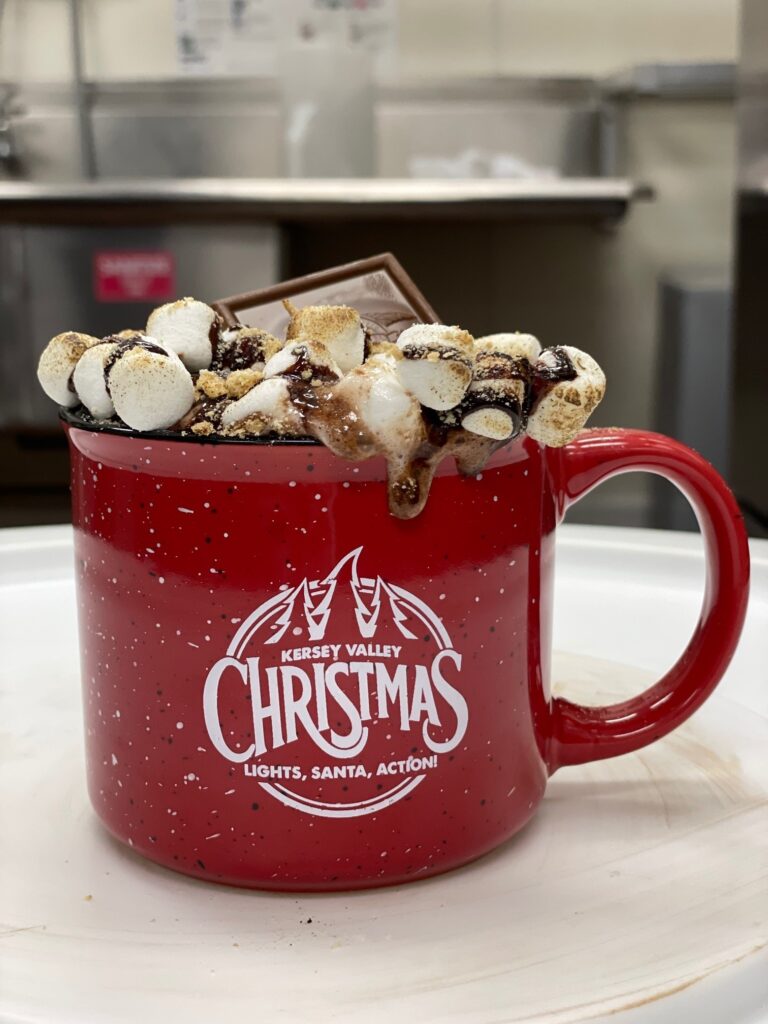 5 Reasons a Trip to Kersey Valley Will Become Your Family's Favorite Holiday Tradition
What makes Kersey Valley Christmas a can't-miss attraction? There are dozens of reasons why your whole family will love a trip to Kersey Valley, but here are the top five.
Visit Santa, his elves, and his reindeer in one-stop. Where else can you see Santa's elves prepping for Christmas in their workshop? No one in the Triad does Christmas like Kersey Valley.
Experience a one-of-a-kind encounter with the Grinch. Calling all fans of The Grinch Who Stole Christmas: come visit his cave and take plenty of pics for social media.
Get out of your stuffy car and up close and personal with millions of twinkling lights. Waiting in long traffic lines to drive through a display for just a few minutes? Not at Kersey Valley! Get outside, walk around, and immerse yourself in the beauty and magic of a dazzling light show. Your kids will love all the activities, including a playground, festive snacks, and dozens of photo opportunities.
Enjoy a ride on the Wonderland Wagon, pulled by a tractor. If your kids love trains, they'll love this fun and unique experience!
No matter the weather, snow is always in the forecast at Kersey Valley Christmas! Dreaming of a white Christmas? Come to Kersey Valley. No matter the weather, you can enjoy giant snowflakes every evening at Kersey Valley Christmas.
And that's not all! Check out the complete list of activities and attractions at Kersey Valley Christmas here.
Make Your Way to Kersey Valley Christmas to Start an Unforgettable New Family Christmas Tradition
If you're ready to experience the wonder of the holiday season, come take in Kersey Valley's Christmas colors, lights, sights, and sounds. You don't want to miss this Christmas tradition!
Wondering what to pack for your visit? This blog post has you covered!
I'm Ready!
Take Me to the Tickets, So I Can Skip the Line!